Free Macrame Patterns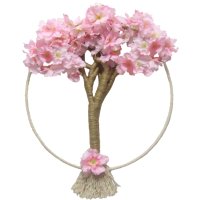 In Free Macrame Patterns you will learn the ancient craft of using beautiful decorative knots to make artistic designs.
Macrame has been around for over 1000 years, and it is once again becoming quite popular. We've developed this site to help encourage this unique craft to thrive.
Here you will find over 300 pages of instructions and photos to help you create a variety of modern and vintage projects, including handcrafted jewelry.
In each area of this site you can click on the images or links to go to the page described.

To get the free patterns, all you need to do is PRINT the pages you need. Be sure to read our Terms of Use page first.

Beginners should follow the steps below to learn Macrame:



Start by reading all the pages in Macrame Essentials.


From choosing cord material, to selecting the right beads, the subjects covered are very important to learn if you want to be successful in Macrame.




For those who are new to this craft, or if you need a refresher, please visit the Macrame Dictionary.

You will learn common terms used in this craft as well as those used in the instructions on this site.





The next step is to visit Learn Macrame. There you will find a library of decorative knots, both basic and unique.

Practice ALL the basic and vintage knots on the page until you can make them without instructions.

The Free Macrame Patterns listed in other areas will be much easier to make if you practice first.
Are you experienced in the art of Macrame and interested in learning some new techniques?


Included in Learn Macrame are instructions for a variety of

Celtic Knots

, which are based on historical artwork.


Chinese Macrame features the traditional knot designs used to make unique and beautiful complex knots.

These symbolic knots were created long ago and are interesting projects on their own.

They can be used to create jewelry, belts, package decorations, wall hangings and more.

Pages With Free Macrame Patterns
Once you are finished practicing the basic knots and are comfortable with them, it's time to create something!
The Free Macrame Patterns can be found in the 4 sections described below.
Each pattern listed on the following pages is free to print. There is a list of supplies as well as links to the knots used in the design.




Micro-Macrame contains projects using fine materials, such as Satin, Leather, and Hemp.

Listed in this section are a variety of free patterns for bracelets, necklaces, pendants, and earrings.



Macrame Patterns contains projects for home decorating, gifts, organizing and more.

There are patterns for plant hangers, fashion items, and holiday decorations you can print and create.

Click on "Patterns" on the left menu or on this image.



In Macrame for Kids you'll find small projects that can be made by children ages 6 and older.

These are great projects for beginners!





Advanced Macrame

are elaborate and challenging designs for those with plenty of experience.

Don't try these if you are a beginner. Make other items first, beginning with the easy projects. Then move on to those that are moderately complex. After that, try an advanced project and see how it goes.

By printing any text or images on Free Macrame Patterns, you are agreeing to our
Terms of Use.