Custom Search
Round Bracelet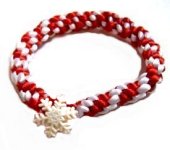 Description: This Round Bracelet looks very puzzling when you first see it, but is surprisingly easy to make. You only need to know 2 decorative knots to make one of these unique Macrame bracelets.
The design has a smooth, rounded shape, and a very nice finished appearance.
You can use this Micro-Macrame design to make a choker style necklace, a belt, or even a dog collar, simply by making it longer.
Satin cord was used to make the holiday bracelet shown.
Supplies Needed:
1.5mm - 2mm Cord Material
Knots Used:
Step 1: Use this formula to determine how long to cut the cords:
Finished Length of Bracelet (wrist measurement) x 12
Cut 2 cords, each the size you came up with.
Slide both cords through the shank on the back of the button. Center them by matching the ends, and make sure they are crossed.

Mentally number the four segments, starting on the lower left.
| | | |
| --- | --- | --- |
| | | Step 2: Fold segment 1 to the right, so it rests on top of segment 2. |
Step 3: Fold segment 2 vertically, so it rests on top of segment 3.

Be sure not to disturb segment 1.
| | | |
| --- | --- | --- |
| | | Step 4: Fold segment 3 to the left, so it passes over segment 4. |
Step 5: Fold

segment 4

forward

(towards you), and pass it through the curved area of segment 1.

Make sure it goes in from the top (over - under).
Step 6: Tighten the first Crown knot by pulling on all 4 ends gradually.

It should fit firmly around the shank of the button.
Design Tip: Note that the cords are in different positions now, as compared to when you started. This is important, so try not to rotate the cords in any way, as you tighten the first knot.
As you continue, make sure you always rotate counter-clockwise as you tie each knot.
Always start with the segment on the lower left. The spiral design will work out perfectly, as long as the segments switch places each time.
Step 7:

Repeat steps 2 - 5

, tying the second knot.

When you tighten it, make sure it rests

on top

of the first knot.
Step 8: Secure the Round Bracelet by passing a pin through the shank of the button, on an angle.

Tie several more Crown knots, until the bracelet is the size you need.
Step 9: To make a simple clasp for the Round Bracelet, tie an Overhand knot with all four ends.

As you tighten it, pull on one end to keep it loose, so you have a loop for the closure.
By using any text or images on Free Macrame Patterns, you are agreeing to our
Terms of Use
Have any comments about the Round Bracelet?
Contact Me.